Podcast
3 families: How we decided to start a family with donor sperm
New podcast explores what it means to be a donor-conceived family.
November 17, 2023
5 min. read
How does it affect a child and a family to be donor-conceived? How do you talk to your child and the world about donor conception? Does the lack of a biological link to a parent matter?
Those are just some of the questions that Sabrina Vitting-Seerup from Denmark has wrestled with. She and her husband Kristoffer Vitting-Seerup are the parents of 4-year old Meta, who they conceived with the help of a sperm donor, as Kristoffer didn't produce sperm cells.
To answer those questions, Sabrina has created a podcast where she discusses these subjects with single mothers by choice, LGBT-parents and a therapist, who specialises in donor-conceived families. Last, but not least, Sabrina talks to donor-conceived adults about their experiences.
All these conversations have become the podcast 'Being donor-conceived: Stories from children and parents'.
Listen to episode 1 of 'Being donor-conceived' here:
Solo mum had 3 out of 4 dreams come true
Solo mum Nina Troelsgaard Jensen from Denmark didn't initially plan to have children on her own.
"It was always plan A to have a family with a lot of children, a husband, a house and a dog. Now I have a daughter, a house and a dog," she says.
When she was 37, she started considering becoming a solo mum. But it took another two years to make the decision and finally get pregnant.
"It took a few years to get the courage to do it and to reflect on what the consequences would be. Also, I was very aware, that I might not have a boyfriend for that entire time," she says.
Even though she had to modify her original dreams of a family, Nina is happy to have three out of four dreams come true.
LGBT couple: Safest way for us was through sperm bank
Haley and Katja Schönberg, a same-sex couple living in Germany, weren't planning to become parents before they met. 
"I was a dancer, and it would wreck my career. I didn't want to ruin my body. But that changed when I met Katja," Haley explains.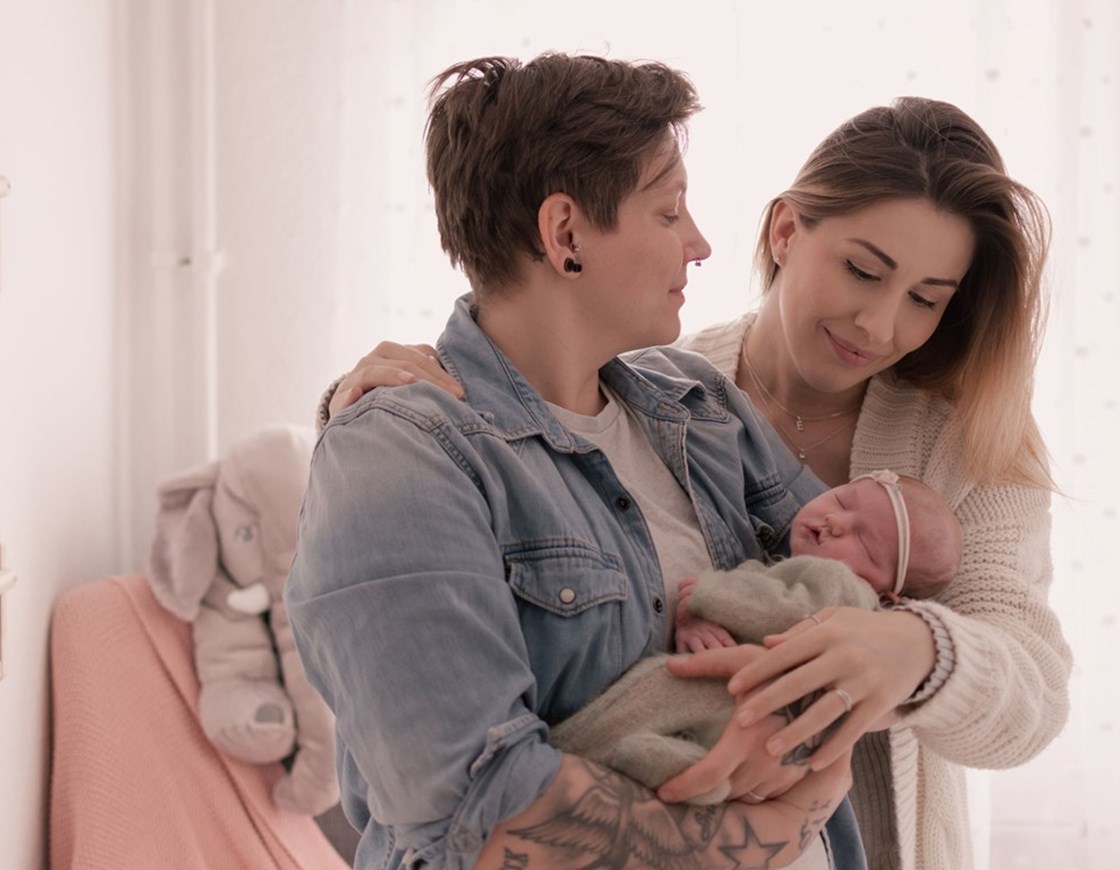 As the desire for a child grew, the couple brainstormed different options. Co-parenting with a third person and adoption was on the table. But Haley wanted to have a biological child and experience pregnancy.
"Due to the legal aspect and to make it official and safe, knowing that somebody isn't going to turn up to take our child from us when they want to claim rights, the safest way for us was to go through a sperm bank, and we chose European Sperm Bank," says Haley.
Kristoffer worried about feeling like his daughter's "real" father
For both Nina and the Schönberg family, needing a sperm donor was a natural consequence of their life situation.
For Sabrina and Kristoffer, it was a shock and a sorrow to learn that Kristoffer wouldn't be able to contribute to the biological makeup of their future child.
"Being bisexual, I thought I had ended on the easiest path to kiddos by marrying a guy. It just wasn't so. The things we had thought would be easy, they were hard and quite unromantic. Not only choosing a donor online the way you shop for shoes or leggings but going through fertility treatments. Lots and lots of fertility treatments. It seemed anything but easy," Sabrina recalls.
Kristoffer had to come to terms with being infertile, and he went through therapy before they tried to conceive with donor sperm.
"I worried about not being her "real" father a lot," Kristoffer says.
That worry has fortunately been put to shame after Meta was born. For the first part of her life Kristoffer was very aware of making a sharp distinction between him and the donor, as he felt insecure about his role.
"But simply being with her for so long and seeing her accept me as the dad for so long has completely obliterated that uncertainty and insecurity," he says.
And speaking to the other families, Sabrina found that all insecurities about biological links were put to shame after birth.
"You feel like a real family because you are a real family. How else would you explain all the love along with the constant Lego on the floor?" she says.
This blog post is based on episode 1 of the podcast 'Being donor-conceived – Stories from children and parents'.
Episode 2 discusses how to talk to children about donor conception, and donor-conceived adults share how they learned of their origin. Listen to episode 2 here: