Podcast
Donor-conceived families: How we handle the reactions from our surroundings
Donor-conceived families sometimes have to deal with ignorant children, unsupportive employers and hurtful questions. Being open helps.
November 17, 2023
4 min. read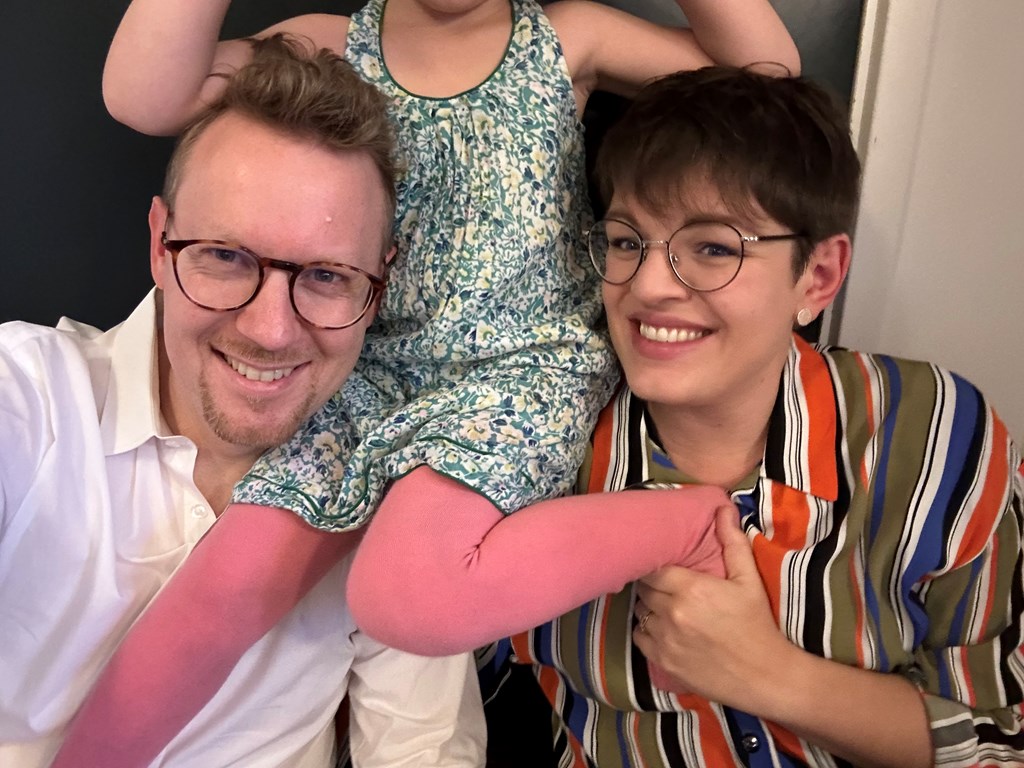 You have decided to have a child through sperm donation, and you feel confident in your decision and your love for your child. But what do you do when that isn't mirrored in your surroundings?
Kristoffer Vitting-Seerup, the father of donor-conceived Meta, has never experienced any unpleasant comments about the fact that he is not biologically linked to his child. But his wife, Sabrina Vitting-Seerup, has been getting questions behind his back.
People have asked her, if Kristoffer struggled to connect to new-born Meta. And when they see him now, very connected to Meta, they ask whether he is over-compensating.
"No matter what you do people will explain it with you not sharing DNA with our daughter. Those comments may come from a place of curiosity, but they hurt," she says.
Psychotherapist Lise Kramer advises parents of donor-conceived children to turn those questions around:
"Tell them it is hurtful. Do you, dear friend, see that I'm not connected to my child?"
Listen to episode 3 of 'Being donor-conceived' here:
Children thought the father was dead
Solo mum Nina Troelsgaard Jensen has very strong feelings about other people's opinions.
"I don't think it's anybody's business how you get your children and people should just butt out," she says.
I have made it an ambition to include the entire world. I don't want any misconceptions.
She has chosen to as open as possible with her surroundings. She shared how she got her daughter Laura with the staff and parents at the nursery, and in kindergarten Laura told everyone herself.
"I think the fact that we have been so open about it has shielded her a little bit from a lot of nasty comments. Because children can be very straight-forward and say what they are thinking without reflecting about whether anybody will get hurt by it."
Still, they have experienced some uncomfortable comments due to ignorance. Some children thought that the father was dead, which upset Laura. Others have assumed that Nina was gay.
"I have made it an ambition to include the entire world. I don't want any misconceptions, I don't want anybody to say anything insensitive and I want Laura to be proud of how she was set into this world," Nina says.
Solo mum quit her job and started successful business
For Holly, a gay solo mum living in the UK, the most hurtful reaction came from her boss of 12 years.
She decided to let him know early that she had decided to start a family on her own.
"He said: I think you're crazy because me and my wife really struggled and I think you're underestimating how difficult it is," she remembers.
But that wasn't the worst of it.
"The moment I fell pregnant with Johan I started getting excluded from meetings, my opinion didn't matter anymore, and I had an uncomfortable verbal game of chess about my maternity package despite earning a lot of money for the company," Holly says.
After her son Johan was born, she asked to be able to work from home one day a week, as she had a time-consuming commute across London, which was difficult as the sole carer for Johan.
The request was denied.
"There was this voice in my head saying it was unfair and wrong in many ways. I quit and I set up my own agency."
Fortunately, being a business owner and mother has worked out great for Holly, and she is now also the mother of a daughter, Silke.
Haley and Katja had to correct grandparents
Haley and Katja, same-sex parents in Germany, have decided to share their story publicly through Instagram. But it has mainly been in their personal life they have had to educate people on their family constellation.
"Katja's mum and dad used the German terms for father, vater and pappa, a lot about the donor. I had to correct them on several occasions. I had to say please don't say that because we are not giving him that label," Haley says.
They are open to their daughter Emmi choosing the term she prefers when she gets older. But for now they use the term "donor" and they have made sure that their family is on the same page, so Emmi isn't confused.
On Instagram they have mostly experienced love and support.
"There have been a few homophobic comments here and there, but I just block and delete them. The most part has been positive: Well done, go you, good for you," Haley says.
They have become part of a quite large community of same-sex couples sharing their fertility journeys on Instagram.
"We share to show we are a family. This is a variant of a family. Everyone has different families," Haley says.
This blog post is based on episode 3 of the podcast 'Being donor-conceived – Stories from children and parents'.
In episode 4, donor-conceived adults share how their status affected them growing up. Listen to episode 4 here: