Customer stories
A rainbow family's search for a sperm donor: from grey market to sperm bank
The German-English couple Hayley and Katja Schönberg have been on an eventful journey before they were able to welcome their little daughter. A journey with detours into a world they knew nothing about: the grey market for sperm donation.
October 14, 2021
5 min. read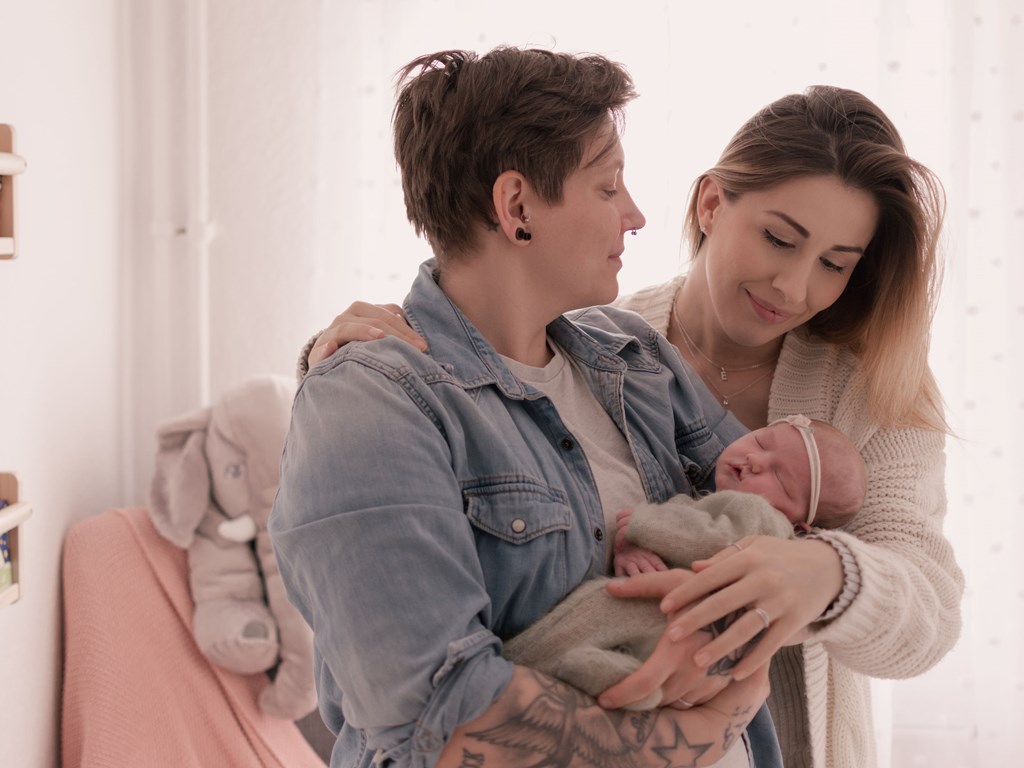 "What has it been like for you to become a mother?," Hayley Schönberg asks her wife Katja. They are taking a walk in one of Hamburg's parks while their little daughter sleeps in the pram.
"Different. Wonderful. Challenging," she answers, while smiling at the camera in the video diary the couple have posted on their YouTube channel. In their videos, the couple speak openly about their life as first-time parents.
Katja's nuanced reply can also be used to describe the couple's process leading up to little Emmi's arrival in February 2021.
Honeymoon and the search for a sperm donor
Hayley and Katja Schönberg live in Hamburg. They have been together for six years and were married in 2019. Hayley is 30 years old, from England and a professional dancer. Katja is a 38-year-old German who works as a stage technician. They had already begun looking for a sperm donor during their honeymoon while also looking into their options and challenges, seeing as German law in some cases makes it difficult for lesbians to have children.

"We have been asked so many questions along the way. That's why we decided to document everything about the process on Instagram and YouTube - for Emmi's sake, and so we don't have to explain over and over how we had our daughter. And of course to help others in the same situation," says Hayley Schönberg via a video link while Emmi is in a deep sleep on her chest.
There's an enormous grey market for sperm donation. It was a pretty alarming experience.
Hayley had previously been through two failed attempts with the sperm of two donors from a different sperm bank that did not result in her burning wish to become pregnant. Time went by. Their desperation grew.

"I'm never going to become pregnant", Hayley thought. She began to research alternatives online. In the endless internet jungle, she found Facebook groups and the app Just a baby, which Hayley describes as Tinder for sperm donors.
Online, the couple worked their way through one dodgy and untrustworthy profile after another. It soon became obvious that many potential donors wanted the donation itself to take place naturally through intercourse, and the couple received several offers of suspicious encounters in hotel rooms.
"There's an enormous grey market for sperm donation. It was a pretty alarming experience," says Hayley Schönberg.
No thank you to untrustworthy sperm donors
Months went by, and the couple had finally made contact with a man who seemed honest and sympathetic. In the meantime, Hayley had become pregnant with sperm from European Sperm Bank in May 2020. The idea was quite simply that she would write to the person and thank him for his time, letting him know that it was no longer relevant. His reaction? The total opposite of being congratulated:
"You ungrateful bitch!"
The tone left the pair in a state of shock.
I immediately blocked him, and yet he made a new profile and contacted me. Imagine if we had chosen him as our sperm donor! We cannot emphasise enough how important it is to use a professional sperm bank. That way, you know that everything will be done properly and that the quality will be top-notch."
To this day, Hayley is still surprised that she did not think about the potential health consequences of using untested sperm from the grey market. Both for herself and her baby.
The dream of becoming a mother was too great. She simply wasn't thinking clearly.
"This is the one!"
Prior to getting a positive pregnancy test result, the couple had chosen a new fertility clinic. At the same time, they had switched to European Sperm Bank, which they felt provided the best value for money.
Hayley and Katja had actually already decided on the sperm donor they wanted to use. On the day that they were about to purchase sperm from this donor, in fact, they had actually added the sperm to the basket on the website, a brand new donor suddenly popped up. The timing was impeccable.
Hayley looked at the donor's baby photos, read the description in the profile and cried with relief. She woke up Katja, who was asleep next to her:

"This one is perfect."
I would be carrying the child, and for that reason, I wanted to feel some kind of connection with the sperm donor.
The profile described an intelligent sperm donor with a good medical history and an interest in art. It actually sounded like a description of Hayley herself, and the cute baby photos also factored into the decision. The little boy's smile was fantastic.

The couple had already agreed that Hayley, who was to be the biological mother, would have the final say:

"I would be carrying the child, and for that reason, I wanted to feel some kind of connection with the sperm donor. And this donor felt so right. Almost like a sign! And I fell pregnant following the first attempt. He was the perfect choice."
Open donor
In Germany, where the couple live and had fertility treatment, it is not possible to be treated with non-contact sperm donors - also called No ID release donors. But the couple also knew from their very first conversations about sperm donation that they would choose an open donor. Hayley's parents divorced when she was 7, and she did not have a relationship with her father for many years following that. She first met him when she was 14 years old, and sadly, he died just three years later.
"One day in the future, we don't want our daughter to ask us why we didn't choose an open donor. For us, it is really important that she has the chance to find out more about her background," says Hayley Schönberg.

After an emotional roller coaster ride that included an encounter with a shady part of the internet, Katja and Hayley Schönberg became parents to Emmi on a winter's day in February. And if there is one thing they have learned from the process, it is the ability to remain patient:

"We weren't. And out of sheer desperation, we could have ended up with the completely wrong choice of sperm donor. It is so important to trust your gut feeling. Communicate with your partner and support each other. These are huge decisions that you have to make together. And don't give up."