Personal stories
Lesbian couple Jo and Viv travelled abroad for fertility treatment
Married couple Jo (25) and Viv (29) live in Poland, where LGBTQ+ people are not allowed to adopt or have children through assisted reproduction. Therefore, welcoming little Ivy into their family was quite the journey, mentally and geographically.
December 13, 2022
7 min. read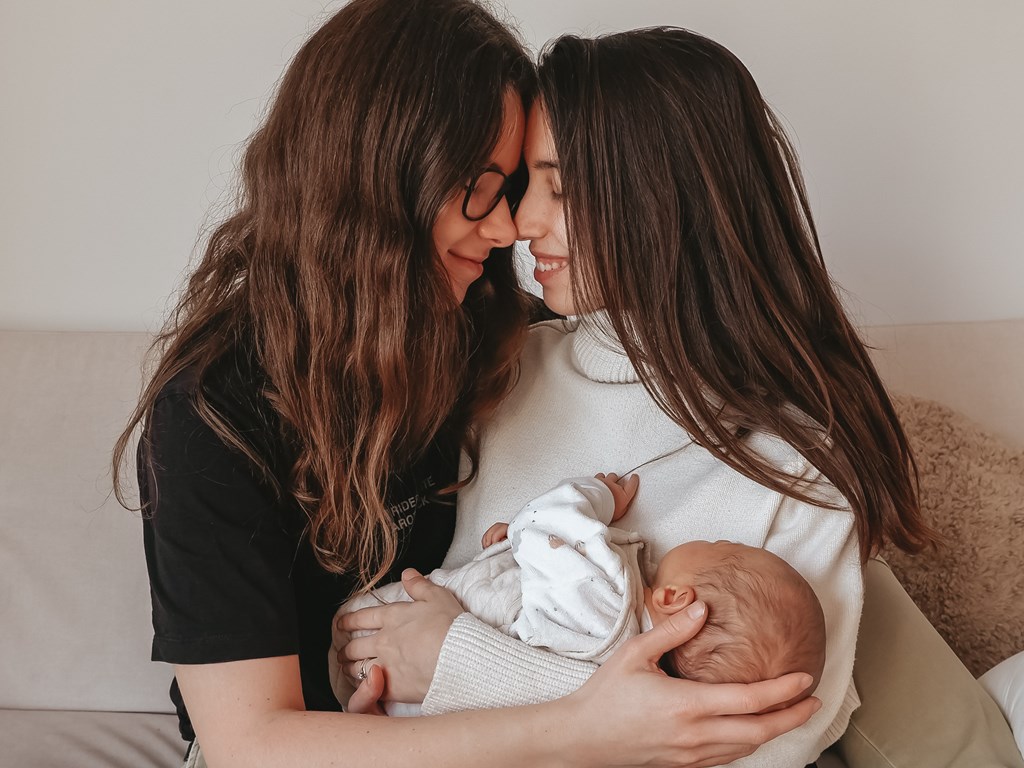 The couple met five years ago in London; Viv from Portugal worked in Human Resources and Jo from Poland was finishing her studies in music. They were both looking for a big-city adventure, and as fate would have it, they even met love. After dating for a year, they knew that they wanted to start a family together at some point.
Fertility treatment is not allowed for LGBTQ+ couples in Poland
However, it quickly dawned on Jo and Viv that having a baby was impossible in London. Not only was the cost of living far too high, but they both agreed that they wanted to be closer to family. In Poland, they would have Jo's family within reach and they would also be able to buy a house. In other words, it was the perfect setting for the family life they dreamed of.
The couple's plans to eventually move to Jo's home country were expedited by corona. When the pandemic hit, the couple moved to Poland to temporarily escape COVID life in London. However, once they got there, they quickly settled into their new life and realised that they felt ready to have a baby.
When we go for a walk with the pram, I'm definitely considered a friend or sister, because passers-by can't imagine anything else at all.
In Poland, LGBTQ+ people do not have the same rights as other citizens when it comes to starting a family. Jo and Viv mention the conservative government in the country, which celebrates the traditional idea of a family. In addition, Catholicism has a strong influence on society. An example of this is that Viv and Jo are married, but their marriage is not legally recognised. Now that Ivy has come into the world, the situation is that only Viv, who carried the child, is officially Ivy's mother. Jo, on the other hand, is not considered a legal parent.
"When we go for a walk with the pram, I'm definitely considered a friend or sister, because passers-by can't imagine anything else at all," says Jo on a video call from their house in Western Poland. In the background, cute baby sounds trickle into the conversation.
Options for fertility treatment abroad
After having settled into Poland, the couple now had the keys to their new house. But at the same time, they realised that it was not possible for them to get fertility treatment in their new home country. The legislation in Poland does not allow IUI, IVF or any other form of treatment for same-sex couples. They briefly considered using a donor from the private market, but it didn't feel safe and they didn't trust the donors.
So, they started to research what their options were. Jo remembers googling in her native language – Polish – fertility treatment as a lesbian or a single mother. The number of results? Zero.
If it was possible for them, then it must also be possible for us.
Other questions also started to pile up, such as what exactly is fertility treatment and how does it work? How many attempts are needed, is there a long waiting time at the fertility clinics and what are the rules for fertility treatment abroad? Also, what is the cost of fertility treatment?
Jo and Viv spent hours researching their options. During this time, they came across European Sperm Bank. They read statements from women with Polish-sounding names on the website and thought, "if it was possible for them, then it must also be possible for us." But, taking the national legislation of their home country into account, how would it be possible to use donor sperm from a sperm bank?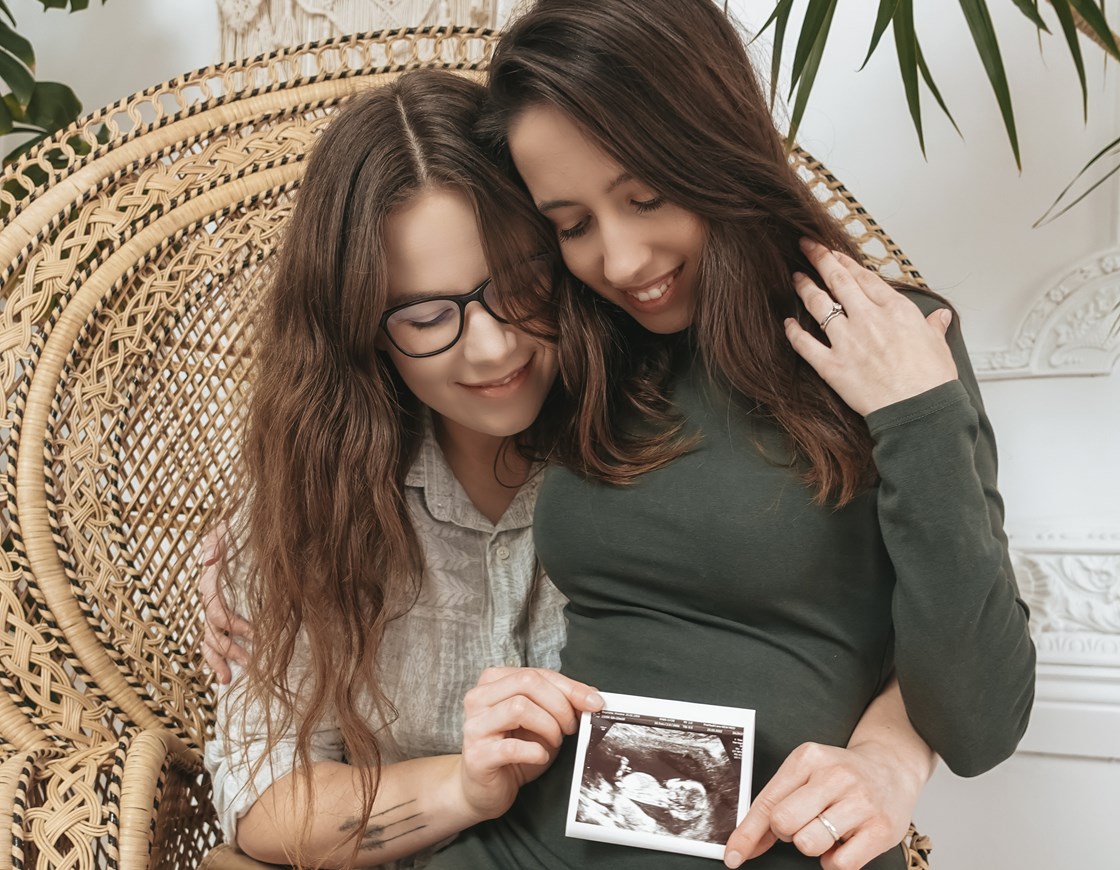 Choosing a sperm bank
Jo and Viv decided to contact European Sperm Bank and got a clear message back: It was not possible to have fertility treatment in Poland, nor was it possible to have donor sperm sent to their home address. So they decided that being treated abroad with donor sperm from a sperm bank was the solution. Jo and Viv ploughed through stacks of articles and blog posts until they were ready to decide on a sperm bank.
"We chose European Sperm Bank because their website is both very thorough and easily accessible. Everyone spoke English and written information was also in English. The first image we saw when we visited their website was of two women holding hands with a pride bracelet on their wrist, so we knew we had come to the right place. We felt safe," says Viv. She continues:
"In Poland, you avoid mentioning that you are gay as much as possible. Here, there was a website that openly showed that they support and help all family forms. It really meant a lot, because it was already a very complex and emotional journey we were embarking on."
The couple mention another reason why they chose European Sperm Bank: the full access to all donor profiles (in countries where full donor profiles are allowed).
Choosing IUI treatment abroad
Having settled on a sperm bank, Jo and Viv then needed to choose the country they would have the actual fertility treatment in. European Sperm Bank sent the couple a list of potential countries; among the options were Denmark, Germany and Portugal.
Jo and Viv ended up being inseminated at a fertility clinic in Denmark. They chose Denmark for various reasons: it was easy for them to get to Denmark by plane; they have friends in Copenhagen and it was important for them to be in a country where they were actually seen as a real couple.
However, even after they had decided on a sperm bank and a fertility clinic, there were still plenty of queries that needed to be addressed.
The most pressing concern for Jo and Viv was what it would be like to travel when pregnant and what kind of stress would come with it. The climate in Denmark is, to put it mildly, on the cold side - could this have an impact on treatment success? Would they be able to predict the cycle and ovulation time? Would it be possible to book flights and appointments at the fertility clinic for exactly the right treatment time? What are the chances of getting pregnant through insemination (IUI)?
"We had so many questions and concerns. But we concluded that if, in the worst case, Viv started ovulating earlier than expected, we would be able to fly to Denmark at short notice. That would not have been possible, for example, in Portugal due to the limited number of flights. That was another reason for choosing Denmark."
It was a very positive process. We didn't expect everything to go so smoothly. Once we got started, everything was so easy.
Fortunately, the couple got pregnant on the first try and only spent a total of one week in Copenhagen. Despite all their thorough planning, however, an unexpected incident happened; that is where their choice of treatment country came in handy:
"We were in Gdansk on Sunday evening and suddenly found out that Viv was ovulating. Panic! It was not supposed to happen until Wednesday. The sperm had already arrived at the fertility clinic and luckily the staff were very flexible. We rushed off and had our appointment pushed forward. It was a very positive process. We didn't expect everything to go so smoothly. Once we got started, everything was so easy," says Jo.
We want to show the world that we are a completely normal family with a child. We think it is important to be in Poland and communicate about our everyday lives.
"We want to spread information about fertility treatment - and hope"
The couple often express their gratitude for the fact that Ivy has come into the world and are very aware of how lucky they are. At the same time, it is essential for them to share information about fertility treatment and spread the word about other family forms in Poland. That's why they started their Instagram account and YouTube channel.
"We want to show the world that we are a completely normal family with a child. We think it is important to be in Poland and communicate about our everyday lives. It is neither a sin nor a crime to be gay. Some of our followers write that they did not even know that it was possible to live as a lesbian family in Poland. Many have given up completely. That is why it is important for us to convey our story - to tell people that there is hope."
At the same time, the couple emphasise that they have never felt unsafe in their hometown. They have experienced great support from their family and have been treated with nothing but respect by the various medical professionals that have crossed their path. Jo and Viv say that their workplaces are part of international groups where tolerance is paramount, which is also an advantage in their everyday lives.
"We are very happy. We have had a healthy baby and we couldn't imagine another donor or another daughter. If, in the future, it becomes too difficult for Ivy to live in Poland with two mothers, we will move. The most important thing is Ivy and raising her in a safe environment."
Jo and Viv's advice for gay couples in fertility treatment:
Get guidance from professionals
Pregnancy must be safe for both the carrying parent and the child, so it is important to discuss your plans with a doctor and possibly make lifestyle changes. You can also get good recommendations for nutritional supplements, etc.
Research! Research! Research!
It is essential that you make well-informed decisions. Contact sperm banks, fertility clinics and professionals to get answers to your questions. Read about fertility treatments and the legislation in your home country.

Choose a sperm bank and fertility clinic early on in the process
You should choose both a sperm bank and a fertility clinic as early as possible. They can help you find the answers to your questions or solve problems that may arise along the way. Remember that you need to feel supported, heard and safe.

Follow relevant Instagram accounts
Support and community are essential. Fertility treatment can be a long process and you need all the support you can get. There are many profiles on social media that support and give good tips and advice. You're not alone!
Relax and take good care of yourself
Breathe, meditate, take a walk. Do things that make you relax. Fertility treatment can be stressful, so don't forget to take care of yourself. You are doing great!